Florence and tourism in COVID time
We all know too well that our lives have radically changed starting from February 2020 and the outbreak of the COVID pandemic. This post is an account of how COVID has affected tourism in Florence.
Firstly, it is worth mentioning that Florence definitely holds its place among the most popular tourist destinations in the world. A 2019 survey estimates that during the year 15 million visitors stayed overnight in hotels or airbnbs. If we add the number of those who came to Florence on a one day trip, the total number of visitors for 2019 approximates to 24 millions. It's a complex topic, but it's undoubted that the city wasn't always positively affected by such an impressive flux of people. Not by chance many were already starting to talk about over-tourism. Obviously the situation radically changed in March 2020. As governments around the world imposed lock-downs and travel bans, tourism disappeared as fast as snow melting in the sun. After last summer's timid recovery and a new wave of lockdowns in the winter, this year's summer has seen international tourism return to Florence. Obviously the numbers are far from pre-pandemic times, as visitors from the United States, Asia, Russia and South America have not restarted travelling yet. However, a fair share of European visitors has already brought some life back to the city. Museums and churches are not empty any more, a few queues can be spotted here and there and waiters in restaurants are definitely not standing idle as they used to last summer. Hence, also tour guides have got back to work, although with a less busy schedule than before.
The difficulties of past months and this moment of regained hope were perfectly captured by the novel installation that recently transformed the facade of Palazzo Strozzi, one of the main historical buildings of the city. The artwork was conceived by the French visual artist JR (https://www.jr-art.net/about) and named "The Wound" so as to remind us of the devastating blow that COVID has dealt to cultural institutions such as museums, art galleries, theaters, libraries, cinemas and concert venues. Here, it's worth mentioning that during the 2020-2021 winter museums in Italy were closed for seventy seven consecutive days, the longest period ever since World War Two. Hence, in JR's metaphorical terms, the facade of the palace with its solid stonework becomes a symbol of COVID restrictions. This hopeless sight is broken through by the artist's skilful use of perspective and optical illusions that create a breach and offer us a view into what we could not access during these difficult months. First we can distinguish the courtyard of the palace and above it an exhibition hall where some of the greatest masterpieces of the Renaissance are exposed: the Spring and the Birth of Venus by Botticelli and the Abduction of the Sabines by Giambologna. Then our gaze passes through a library room of the Institute of Renaissance studies and finally reaches a staircase which seems to lead us out of the stony facade towards a more optimistic vision of the future.
Now Florence and its museums are once again open, but the city is not as crowded as it used to. Hence we invite you to seize this opportunity and visit the city in the upcoming months, we are ready to welcome you.
P:S. The exhibition of JR collage The Wound ended on August 29th: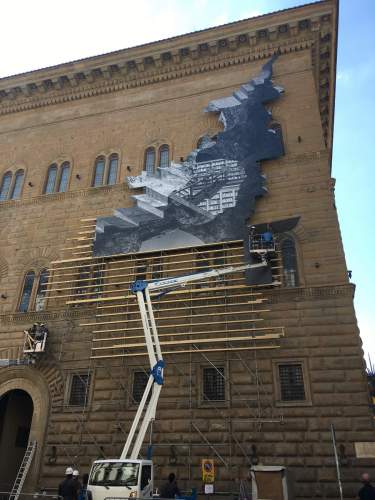 Caterina Barcucci