New at the Uffizi Gallery
New rooms of the Uffizi Gallery
The Uffizi Gallery has just opened to the public 14 new rooms located at the first floor, adjacent to the rooms which until recently were dedicated to the masters of the 16th century.
After more than a decade spent in the deposits, works of masters such as Tintoretto, Veronese and Barocci have finally returned on display. And, what's more, the new lighting of the rooms allows us to admire the richness of their pallet and the depth of their details in a previously unimagined way.
In fact, visiting these rooms is quite a double pleasure, it's somewhat akin to being reunited with long missed friends. At the same time, it's a chance to discover new traits of their personality, which have never been revealed before.
Bronzino's portraits
Entering the new rooms of the museum we first meet Bronzino's portraits, now displayed on grey walls in order to enhance the cold and glittering pallet of the Florentine master. The choice of exposing the paintings without protective glass might seem a bit risky at first, but it's completely vindicated by the result. The silk fabric of the clothes, which in the previous display appeared somewhat flattened, now seems to come out of the canvas and trick the eye into a tactile experience. Thus contrasting wonderfully with the untouchable delicacy of the portrayed, so perfect to remember cameos .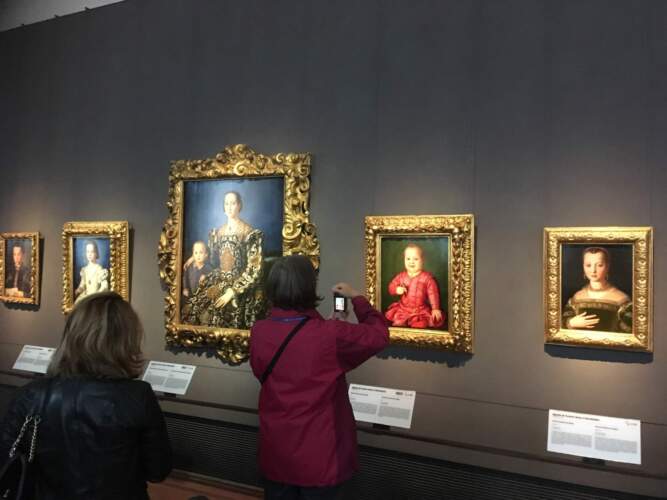 Titian, Veronese and Tintoretto
Moreover, Tiziano's Venus of Urbino has just gained an exclusive room where the green background of the walls echoes the sinuous curtains often shown in the paintings of the Venetian master. In the adjacent spaces other works of Tiziano have finally recovered their depth and richness thanks to the new lighting.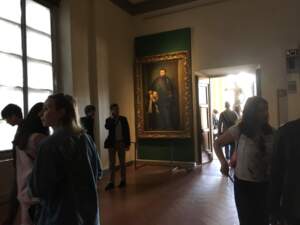 Similarly, Tintoretto and Veronese get a room each, bringing back to the public works which were previously locked in the deposits due to lack of space. However, the "cherry on the top" title goes to the return of Federico Barocci's Madonna of the People, exposed in a room dedicated exclusively to altarpieces.
Crowd free visits on Tuesday
Last but not least one can now enjoy these marvellous works comfortably seated, thanks to the brand new seats of the rooms. So Florencewithguide can not but invite you to get acquainted with this essential addition. In fact, even if you are already familiar with the gallery, you will find plenty of new surprises. We also remind you that during the summer season the gallery is open until 10 pm on Tuesdays, thus allowing for a more relaxed and crowd-free visit.