Uffizi Gallery private tour
Experience the absolute masterpieces of the period as well as its less well-known gems. Leaving aside superfluous lists of dates and names, we will provide you with the keys to enter the compelling and profound world of Renaissance art.
Do not waste your time: it is precious
The Uffizi Gallery is a complex museum containing countless masterpieces. We believe that visiting it with an expert guide is the best way to use your time effectively and avoid being overwhelmed by so much beauty.
from Giotto to Botticelli: a chance to understand where and how Western figurative art was born
Leonardo da Vinci, Michelangelo and Caravaggio: discover how their unique personalities changed art history forever
Spare yourself museum-induced fatigue and quickly find the masterpieces with our help
Go beyond the ready-made experience of an audio guide
Avoid wasting time at the entrance
Avoid "skip-the-line" scams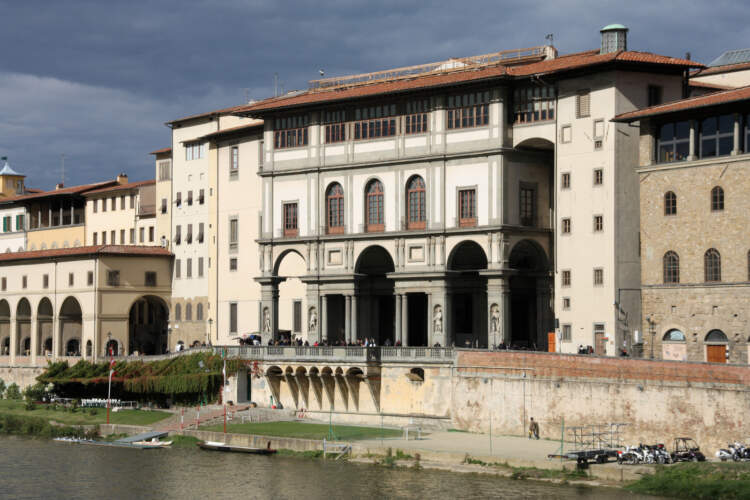 Guide to the great art of the Renaissance
Needless to say, everyone should visit the Uffizi Gallery once in their lifetime. If you are reading this, you most likely already know that it is one of the most important art collections in the world, displaying major masterworks from Botticelli, Leonardo and Michelangelo. However, we would like to tell you why we think you should visit the museum with an expert guide, such as we both are. Of course one might ask, if art is beauty that speaks for itself, why do I need a guide?
Botticelli, Leonardo and Michelangelo spoke and still speak a universal language, but at the same time created their art for the eyes of men and women who lived in another time and were familiar with a very different world from ours. They painted for men and women who were not used to seeing images in motion, video and blockbusters, in the way that we are. We will direct your gaze to discover the narratives, the symbols, the ideas and the true-life stories that have kept the fame of these masterpieces alive throughout the centuries. This does not mean assailing you with lists of dates, names and pictorial styles, but rather synthesising what is truly relevant and meaningful for you. By the end of the tour you will have been provided with the keys to enter the world of the Renaissance so that the next time you visit a museum, you will have the necessary means to achieve an in-depth understanding. What is more, we can help you with all the practicalities, such as making you save time at the entrance and recommending the best day and time to go. It might not seem much, but every minute at the Uffizi Gallery is precious and wasting more than half an hour of your visit is a pity when such splendours as Botticelli's Venus await you. Secondly, a guide can help you find what interests you the most and thus prevent you wandering without a definite aim, or spending so much of your visit in the earlier rooms that you reach the later ones exhausted.
Lastly, one should not forget that there is so much more at the Uffizi Gallery than an audio guide can tell you about. With more than 20 years of experience, we know that no two tours are the same, as no two visitors are. The pre-packaged nature of an audio guide will never be able to answer your questions, tailor a tour based on what you know already, nor focus on what kindles your interest the most. By contrast, we most certainly will be able to do this for you. Hence, if you do not want to say "I have been to the Uffizi", but rather "I have really seen the Uffizi", do not hesitate to book a tour with us.
Practical information
Availability: our Uffizi tour operate from Tuesday to Sunday
Length: 3 hours are recommended; 2 hours are the minimum duration
Rates: the basic, 3-hour tour is 240€; the compact, 2-hour tour is 180€. Rates are per tour and not per person
Tickets and reservations are not included in our rates
The tour is suitable for those using wheelchair or with impaired mobility