Michelangelo: the sculptures
Our guided tour will give you the keys to enter Michelangelo's world. We do not intend to focus on scholarly analyses, but rather to narrate the real life stories that are essential in order to fully discover his genius. The vast majority of his works – 21 out of 30 – have their home here. This means that there is no other place like Florence for those who want to understand his driven and tormented art.
The sharp, clear and yet tormented art of a genius
There are four main museums where we can help you appreciate Michelangelo's sculptures.
Casa Buonarroti where the touchingly human Madonna of the Stairs and the Battle of the Centaurs can be found
The Academy Gallery where the David can be seen in all its perfection next to the monumental Prisoners
The Medici Chapels where you will discover how Michelangelo became an architect and created a timeless abode for his four sculptures the Dawn, the Day, the Dusk and the Night
Lastly, the Opera del Duomo Museum, where we will encounter the Pietà, a powerful and moving work of the genius' old age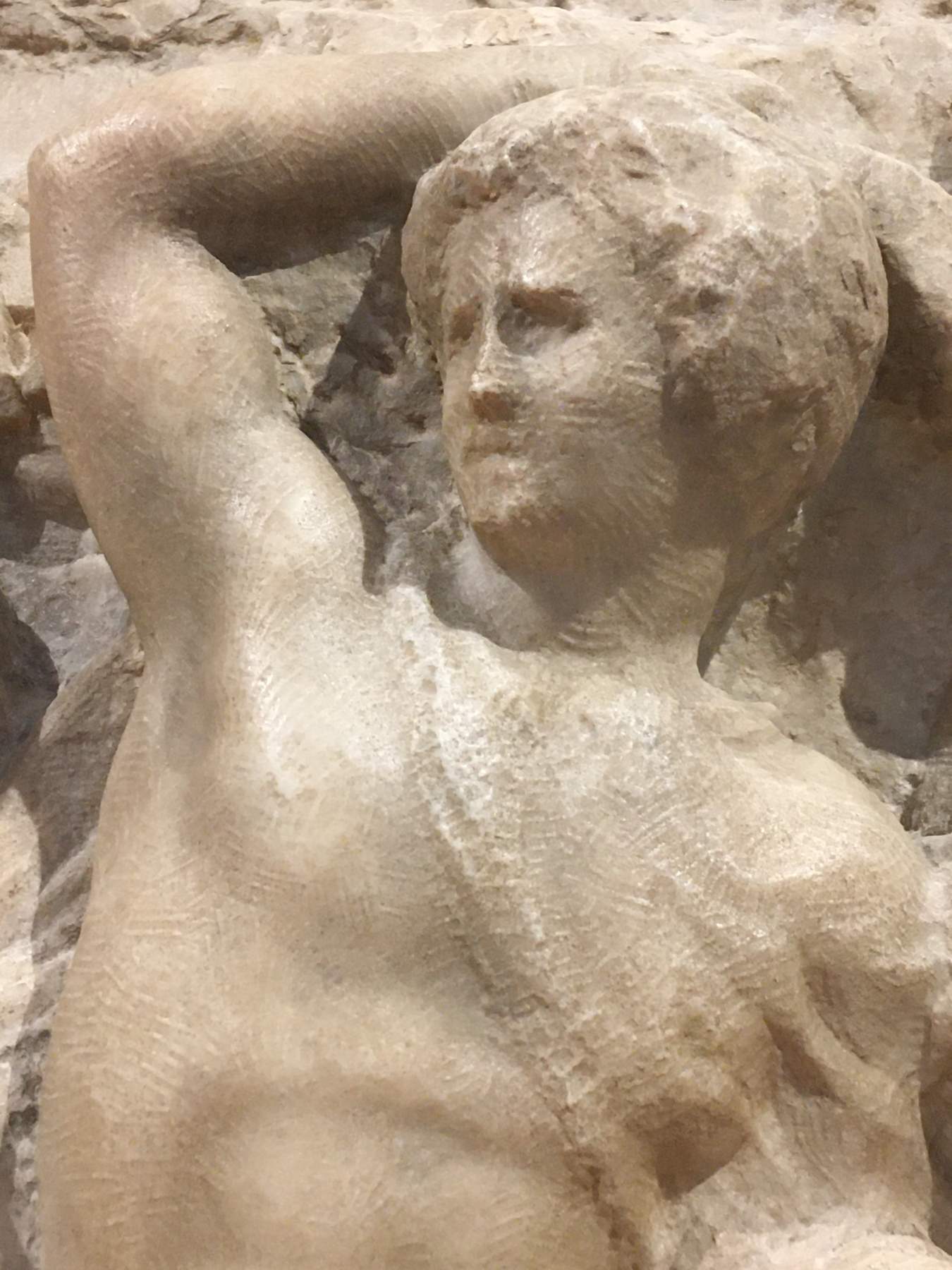 The soul in the marble
Michelangelo, an universal genius, lived his life in a profoundly Florentine way. The foundations of his education were formed under the influence of the humanist culture that he absorbed while growing up in Lorenzo the Magnificent's palace. Donatello's sculptures were the first models for his talent. The pragmatic spirit of his fellow citizens instilled in him a no-frills attitude. The starkness of the Baptistery introduced him to architecture. Dante's verse shaped his own poetic writings and Giotto's frescoes were his drawing school. Masaccio's profundity revealed to him how feelings could be expressed through art. In addition, he succeeded in transforming this wealth of specifically Florentine experience into a universal language.
If he were able to read these lines he would certainly be very, very angry, as he firmly believed he did not owe anything to anyone – consistent with the long-lasting Florentine tradition of haughtiness. He knew he was born a genius and always presented himself as a self-made man. His temperament was – to put it delicately – not easy to deal with and he was soon nicknamed "The Terrible One". At the same time, he was capable of extreme sensitivity. It is said he was a miser and yet he was generous as few others could be. Without a doubt, he was and remains generous towards us, as his art can imbue us with countless emotions, profound musings and the joy of having met him through his work.
We offer customized tours, tailored to suit your interests, your requests and your needs.
These tours would be suitable for:
– those who are encountering Michelangelo's sculptures for the first time
– those who want to take a more in-depth look at his art
– children who might not yet know that Michelangelo is more than a Ninja turtle!
Practical information
Availability: the details of the tour will be to some extent defined by a museum's opening hours, but please feel free to ask any questions you may have on the programme
Length: 3 hours are recommended; 2 hours are the minimum duration
Rates: the basic, 3-hour tour is 240€; the compact, 2-hour tour is 180€. Rates are per tour and not per person
Tickets and reservations are not included in our rates
The tours are suitable for those using a wheelchair or with impaired mobility