Dante was undoubtedly a Florentine to the bone. Raised to be part of the city's political and cultural elite, he was exiled from it in 1301 and desperately tried to return for the rest of his life. He wrote his Divine Comedy while away from Florence, but the tormented love-hate relationship with his hometown was definitely one of the driving forces that inspired him to conceive his masterpiece.
Needless to say that nowadays Florence is not the one Dante left 700 years ago. However, many of the places he loved and described have been preserved through the centuries. Together we will look for that Florence
Dante's Florence
During our tour we will stroll through:
The churches, the towers, the alleys and the squares which were the setting of Dante's life. We will visit the neighbourhood where he was born, following the story of his family and his passions.
We will stop by the Bargello, where Dante fought in the political struggles of his time.
Of course, we will visit the Baptistry, that very "my beautiful Saint John", where Dante was baptised.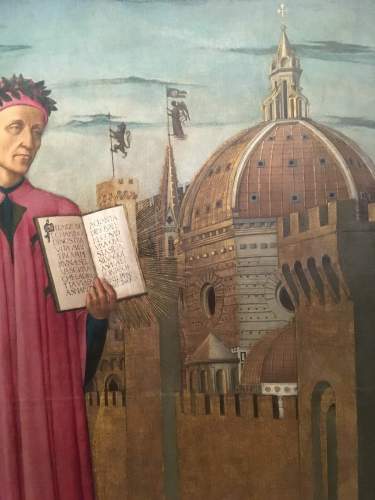 Following Dante's footsteps guided by his voice
The tormented love-hate relationship with his hometown was definitely one of the driving forces that inspired his pen. On the one hand, his fury at the political corruption of the city inspired some of his most fiery verses. On the other hand, his love for his hometown made him eternalize it. The fame he gained soon after the completion of the Commedia wasn't enough to allow him to return from exile. However, it was definitely enough to make him attain a place in the pantheon of world culture. Ever since its evocative verse has inspired generations of poets, thinkers, writers, movie directors and more recently even video game makers. With so much fame it's no surprise that Dante's biography has been fictionalised and at times even mythologized. During our tour we will seek the truth, debunking false myths and narratives. At the same time, we are not Dante's scholars and we don't have an academic lecture in store for you. Our aim is to introduce you to his city and show you the places that fuelled his imagination. In order to do so we will follow the thread that the poet himself has left us. Not everyone knows that 100 ago the city decided to celebrate Dante with a series of commemorative plaques. They will present us with those verses from the Divine Comedy which the poet devoted to the city. Each plaque is placed in a spot charged with historical significance and meaning. This could be one of the buildings the poet describes, or the very place where events narrated in the poem happened, the house where one of the damned of the Inferno lived or the palace where Dante met Beatrice. Following this constellation of memorial tablets we will be led by the poet's own voice to discover the Florence that inspired him to conceive one of the greatest poems of all times.
Practical information
Availability: our tours operate every day of the week
Length: 3 hours are recommended; 2 hours are the minimum duration
Rates: the basic, 3-hour tour is 210€; the compact, 2-hour tour is 160€. Rates are per tour and not per person
No extra entry tickets are needed, if you don't wish to enter the Baptistery
The tours are suitable for those using a wheelchair or with impaired mobility